Kohl's has the Best Deals if you know how to find them.  I am going to share with you the Best Kohl's Deals to Saving Money that I know.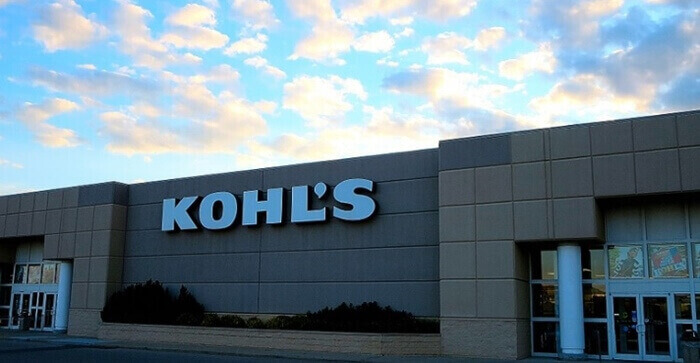 But first here is a little fun fact about Kohl's that I thought was interesting.  Kohl's did not start out as a department store back in 1946 it was a grocery store.  It didn't become a department store until September 1962 when the British American Tobacco Company took controlling interest.
We'll get back to some more interesting and fun facts about Kohl's after I share the Best Kohl's Deals.

1. Kohl's Credit Card
Maximize your savings and apply for a Kohl's Credit Card.  I am not a big fan of department store credit cards because of the high-interest rates, but this one is worth getting.  Just remember to pay it off on a monthly basis to maximize your savings.
Kohl's mails out exclusive offers to cardholders on a monthly basis, which is 12 months of savings.  The discounts are anywhere between 15% to 30% off when you use your Kohl's credit card.


2. Kohl's Cash
Kohl's Cash is so much fun to get, they are paying you to shop by giving you cashback.  Crazy right!  Oh but it's true when you use your Kohl's Credit Card during the Cash Back promotional times and your total purchase is $50.00 or more you will get $10.00.
Even though I just said your total purchase has to be $50 or more and that is what they advertise.  Here's a little secret, Kohl's will still give you $10 Cash Back if you only spend $48 dollars.  Not sure why they just don't say $48 but I guess it's all about advertising.
Kohl's Cash does have an expiration date so make sure you use them before they expire.  Even if you just buy something for the Cash Back Value and nothing more.  Once I had a $10 Kohl's Cash and I really didn't need anything so I bought a dishtowels, so I basically got a free dishtowels.  Make sure you pay close attention to dates.
Things to know about Kohl's Cash
Earn Kohl's Cash in stores, online, or at the store kiosk

Gift Cards purchases will not earn Kohl's Cash
Kohl's Cash expires the last day of promotion at 11:59 PM Central Time

You can not use your Kohl's Cash to pay your Kohl's Charge Card

You can combine Kohl's Cash with other offers

Kohl's Cash will be applied BEFORE any percent-off discounts
3. Kohl's Yes2You Rewards
You don't need a Kohl's Credit card to join Kohl's Yes2You Rewards Program.  But you will have to Sign Up for the Yes2YouRewards Program.
Here's how it works is for every dollar you spend you earn one point and for every 100 points, you get a $5.00 reward. It's like getting 5% back for your next shopping adventure.
You'll also receive eight savings offers every year, plus special birthday gifts and opportunities to earn bonus points.
4. Download Kohl's App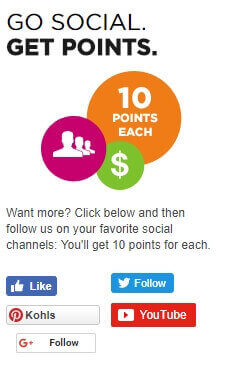 Download the Kohl's App and get $5 from the Yes2YouRewards Program.  After you Download the Kohl's App to your smartphone you will get even more savings.
Here's how to get $5 from the Yes2YouRewards Program just for downloading Kohl's App.
Automatically receive 50 points from Yes2YouReward Points

Receive 10 Points when you follow Kohl's on Facebook

Receive 10 Points for following Kohl's on Twitter

Receive 10 Points when you follow Kohl's on Pinterest

Receive 10 Points for following Kohl's on Google+

Receive 10 Points when you subscribe to Kohl's YouTube Channel
After you hit the 100 points you get $5, this can take up to 24 hours for the rewards to show up in your account.
5. Kohl's Online Shopping
If you are planning to shop online at Kohl's don't go to Kohls.com go to Ebates.com first, it will get you at least an additional 2% savings. 
You can save a lot of money shopping online at Kohl's with discounts, coupons, and rewards.  Kohl's allows you to use up to four coupon codes when you order online.
How discounts will be applied
Codes that have a specific dollar amount or percent off per department

Dollar amount off coupons will then be deducted (example: Kohl's Cash or Yes2You Rewards)

One Sitewide percentage off discount will be applied last
When you purchase something online at Kohl's and if it's available for in-store pickup you don't have to pay shipping fees.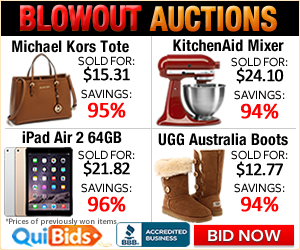 6. Kohl's Coupon Deals
Coupons are pretty easy to get for Kohl's just go to their website and you'll see some kind of coupon.  If you want coupons delivered right to your inbox sign up for Kohl's email list.
If you download the Kohl's App you can scan your coupons, so you always have them for those unexpected visits.
If you go shopping at Kohls without any coupons here's 3 ways to get coupons right in the store. 
Ask the cashier at the time of checkout, they usually have some you just have to ask
Using your smartphone connects to Kohl's Wi-Fi for either $5 or $10 off your purchase
Text the word SAVE07 to #56457 for a 15% off coupon
You can stack Kohl's discounts for extra savings:
How they will be applied
Department-specific coupons dollar amount off or percent-off coupons

Dollar amount coupon ($5/$25 or Kohl's Cash, Yes2You Rewards)

One sitewide percent-off will be applied last
Some name brand exclusions do apply for discounts, click here to see the full list.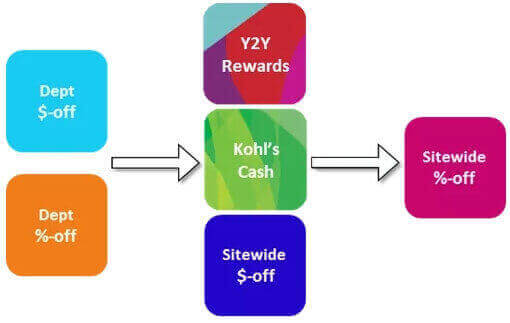 7. Understanding the Digital Prices
Just like JCPenney, Kohl's has their sales coding system to track discounts.  You may or may not have noticed but in the upper-right hand corner of the digital price tags are the codes Kohl's uses for pricing.
In order to get the best deals, you need to understand what to look for.
What the codes mean:
BB: Bonus Buy

S: Sale Price will last for 1 to 2 weeks

Square: Lowest Price of the season

NM: Will get market down again

BGH:  Buy One, Get One 50% off

GV: Limited Time Sale – Early Bird or Night Owl Sales

PP: Product Placement – Fixed Sale Price

8. Best Time to Shop at Kohl's
Get extra savings when you shop the Night Owls Fridays or Early Bird Hours Saturday.  You have to be on the lookout for these special shopping hours.  This is for in-store and online special shopping hours.
Night Owls Friday hours for in-store are from 3 p.m. to closing local time.  Online is from 2 p.m. to midnight Central Time Zone, be aware of time zone difference if any. 
Early Bird Saturday hours for in-store are from open local time to 1 p.m.  Online is from 12 a.m. to 3 p.m. Central Time Zone, again be aware of your own time zone.
You can get anywhere between 10% to 15% additional savings off the already sale prices.  Be on the lookout for ads in your local area.
9. Shop the Clearance Items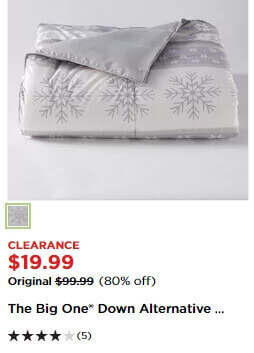 Shopping the Clearance items can add up to huge savings.  Clearance items are marked down anywhere between 40% up to 80% and sometimes 90% off.  Did you know you can also use coupons with the clearance items?
It's true, you can use Kohl's Coupons for extra savings and if you shop online for clearance items you can save at least 2% more with Ebates. com.
Kohl's also has Gold Star Clearance Event with savings up to 90% off the original price.  Gold Star Clearance Events happen usually at the end of each season, so be on the lookout for these special events.

---
The first Kohl's was a corner grocery store in Milwaukee, Wisconsin owned by Maxwell Kohl back in 1946. The store was called Kohl's Food Stores.
Kohl's became a department store in 1962 when the British American Tobacco Company took controlling interest in the company.
The company's headquarters are still in the Milwaukee suburb of Menomonee Falls, Wisconsin.
There are 1,155 stores as of 2018 operating in 49 states, there are no stores operated in Hawaii.
Kohl's operates 492 building on solar power, they are LEED Certified and the largest hosts in North America
They have an 81% Operational Recycling Rate
Kohl's merchandise departments are broken down like this 30% Women's, 20% Men's, 18% Home, 13% Children's, 10% Accessories, 9% Footwear
This is what Kohl's Stores looked like in 1968 and then in 2016

Happy Shopping "Expect Great Things"