---
Company:
 Ibotta
Used For
:
Extra Cash
Rating:
$$$$$
Price:
YOU Receive $10.00 FREE
How does Ibotta work?
---
Ibotta is an App that you download on either an iOS or Android devices. It's available only in the United States as of October 2016. After you install Ibotta you can start earning Cash Back right away. It's very simple to use and available at over 500,000 retail locations.
Ibotta offers Cash Back Rewards at over 300 retail chains, movie theaters, restaurants, convenience stores, pet stores, home improvement stores, and pharmacies nationwide. To see if your favorite store is currently offering rewards here's a list of some of the retailers.
This is just a few of the retail stores for a complete list Visit Ibotta Support Center.
Three Easy Ways to Earn Cash Back
---
1.
Scan Receipt
Before you go shopping to your favorite store open the Ibotta app. Review the current items offering Cash Back Rewards. Check off the items you are planning to purchase inside the app.
This is also a great way to create a list of what you need before going shopping.  You don't want to forget something on your list or miss out on a great deal.
Let's go shopping.
Purchase everything you have checked off in the Ibotta app. After you have completed shopping make sure you keep your receipt for proof of purchases.
In order to redeem your rebates scan your receipt. You will then have to scan the UPC of the items you want to receive Cash Back for. Ibotta will match the items you purchased to the rebates you selected and give you the cash!
It's that SIMPLE!
You're busy and you don't have time to download a separate app for every store where you shop. Instead, use Ibotta to earn Cash Rebates on the best brands, products, stores, restaurants, movies, and more.
Get Cash
Rebates Cash Back Rewards will be deposited into your Ibotta account within 48 hours.
2.
Link a Loyalty Cards
Link Retailer Loyalty Cards for easier redemptions of rebates. Retailers that are Preferred Partners will automatically prompt you to use store Loyalty Card number after opening Ibotta.
You must link your Loyalty Card to the retailers in your Ibotta app before going to retailers to receive rebates. It is best to link your Loyalty Cards as soon as possible, preferably 24 hours before shopping.
Prior to shopping, find rebates you will want to cash in on. Scan your Loyalty Card or provide a phone number at checkout. That's it!  You should receive a confirmation of your purchased within 48 hours of the purchases.
3.
Mobile App Purchases
Before you start shopping online open Ibotta app and find stores that offer Cash Back rebates. Top online retailers offer at least a 3% cash back on your purchases. Some of the retailers include Amazon, Hotels.com, Uber, and Jet just to name a few.
Go Shopping!  Make a qualifying purchase while shopping with participating app. This works just like Ebates.com, expect with Ibotta you have to request when you redeem your Cash Back.  (Check out our review on Ebates.com)
Ibotta Free App
---
Ibotta.com was founded in 2011 by a 36-year-old lawyer who had an idea and wanted to become an Entrepreneur. He had an Idea and wanted to turn it into Bucks. 🙂
His name is Bryan Leach, Ibotta headquarters is in Denver, Colorado.  Ibotta got its name from the term "I bought a…" pretty clever, don't you think.
As of July 2016, Ibotta announced they paid users over $100 million dollars through their app. Pretty impressive for a business that just started in 2011.
Coupons are great and they can save you a ton of money, but what if you didn't have to clip them out of newspapers.  What if they were available right at your fingertips and very easy to redeem.  Ibotta makes it easy to find rebates for retailers that are located near you.
They also offer rebates on items such as beer, wine, and spirits that can be purchased at restaurants or at retailers.  Some offers are valid on Any Brand of food which includes store brands.
I bet you can't find coupons for fresh produce in the newspaper.  Yes, they offer rebates for different fresh produce such as tomatoes, peppers, and bananas.
They offer so many rebates on all types of products from food, liquor, electronics, pet food and so much more.
 What are you waiting for?
Ibotta Pros and Cons
---
Pros and Cons that we have found about Ibotta App.  Let us know what you think about Ibotta and what the Pros and Cons are for you in the comment below.
Pros
Store and/or Generic brand item offer rebates
Rebates are offered on household items
Healthy foods and fresh produce offer rebates
Alcohol and Non-Alcohol Beverages rebates
There are always new rebates
Cons
You have to wait until you earned $20 to redeem Cash Reward
Receipts must be submitted within 7 days from the date of receipt
Rebates do expire, so purchase before they expire
Unlocking savings can take a few seconds, some include watching a video
Who is it for?
---
Ibotta is great for Everybody!  Yep, Invite your family, friends, co-workers, neighbors, everybody you can think of.  It's not fair to keep this kind of Savings and Fun all to yourself.
Create an Ibotta Team and you can help each other earn more cash.  Make a fun game out of it and see who can earn the most in one week.
If you are on a tight budget and need to learn how to save some money, try Ibotta out for a week and see how much money you can save. If you are like most people who go food shopping at least once a week, you can really earn some savings. Don't wait any longer to Try Ibotta out for yourself you really have nothing to lose. Well, maybe some Extra Cash you will be losing. Please leave a comment below if you Like or Dislike Ibotta we would like to know Why either way.    
Pricing
---
FREE to Join (Receive $10 this month if you Join TODAY)
Final Opinion
---
Stop Clipping Coupons! It's time to Ibotta and Save Money.
You don't have to spend endless hours looking for coupons to clip from the newspapers anymore.  All you need is your iOS or Android device to Cash in on the Savings.
Before going shopping check out your Ibotta App and check off the items you are planning on purchasing.  This is also a great way of writing a shopping list before you head out.
The Cash Rebates range from .25 cents up to $10.00 on certain items.  Ibotta offers several ways to Save Money on things You Already Buy.
Like grocery, pet food, electronics and so much more.  Don't forget about the Money Saving you can earn while shopping online.
Ibotta is a total package for Saving Money any way you shop. The Savings start adding up you can withdraw the cash via PayPal, Venmo or Retailer Gift Cards.      
BONUS REBATES
---
Ibotta offers Bonus Rebates!  If you redeem unique rebates in a certain amount of time, you can receive an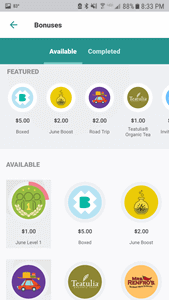 additional Cash Bonuses in your account.
This is not something you have to keep to yourself Invite Family & Friends to join in and increase your Cash Rebates.  Create an Ibotta Team and save money together and faster.
Bonus Rebates do change from month to month so make sure you keep checking them.
Make sure you share this article with your Family and Friends so you can help each other save money.
Check out our other Money Saving Ideas
---