With over 6,000 stores in the United States, everyone has
shopped at Walmart
one time or another in their life.  You can get everything from
electronics to groceries
all under one roof in a Walmart SuperStore.  But do you know how to
Shop at Walmart and Save Even More?
Yes, Walmart already has low prices on just about everything, but did you know there are
secrets to saving even more
.  Once I started doing my grocery shopping at Walmart I figured out more ways to save even more.
Here are Simple Ways to Save Even More
1. ShopKick
Earn money just by walking into your local Walmart store using the
ShopKick App
.  If you have never heard of ShopKick you have been missing out on a ton of fun and savings.  This is
my
favorite Money Saving / Earning App to date
, kids love to help find products in the stores.

Once you download ShopKick App to earn points all you have to do is walk-in stores.  You can also earn kicks on certain products you scan in the store.  Yes, you will
earn points toward $2, $5, $25, $50 and $100 Walmart Gift Cards
. How is that for savings? I did a full article on "
Simple Way to get Free Gift Cards
" using ShopKick be sure to check it out. 
Download ShopKick today and get 250 kicks when using this link, or code NICE410512,
that is halfway to Free $2 gift card.
2. Walmart Savings App

If you ever purchase something from Walmart and haven't downloaded the Walmart Savings Catcher App you're not maximizing your savings.  Walmarts offers a super simple price match App that takes 1 minute to do.  Really only 1 minute! No need to stand in long customer service lines to request a refund because you found a product cheaper somewhere else.  Sign up for Walmart Savings Catcher scan or enter its code on your receipt within 7 days of the purchase and Walmart does the rest. Walmart will compare prices of the same exact product in the local area stores.  If another store has the same exact product for a lower price Walmart will give you the difference.  The product has to be the same exact weight, size, and brand. When savings are found Walmart will put the difference on a Walmart eGift Card setup in the app.  Then your next trip to Walmart open the Walmart Savings Catcher App at time of check out and have the cashier scan the gift card UPC code. It's that simple.

3. Print Coupons

Even though Walmart has low prices already it doesn't mean you can't increase your savings.  I use printable coupons from Coupons.com which is where Walmart.com/coupons are linked to. Every week before I go food shopping I print out coupons on products I am planning on purchasing.  Walmart doesn't double coupons but they do accept their competitors for the exact product. They will give you cash back if the coupon is worth more than the product actually cost.  For example, if a coupon is worth $2.00 off and your favorite deodorant and it's on sale for $1.75, the remaining $0.25 would be applied to another product in your order. Did you know Walmart will accept Checkout receipt coupons from competitors?  Yes, it's true, if you receive a checkout receipt from another store for a certain amount off and a specific item, Walmart will honor it. There are so many types of coupons Walmart will accept and a few that they will not, I have created a PDF file for Walmart Coupon Policy be sure to check it out.

4. Ibotta App

You can not only save at Walmart with this app but at thousands of other retailers using the Ibotta.  This free app gives you money back on items you purchase. Just take a picture of your receipt using the Ibotta App and look through the products they are offering discounts on.  This is my second favorite app to use for extra savings. Ibotta app offers discounts on brand name product and even any brand which includes store brands products, how does that sound? I wrote an article about Ibotta App because I think it's an App everyone should be using.  If you Sign up here you will receive a $10 welcome bonus using this code

mwbbtgx

.

  It's a sign-up bonus from me to you.

5. Checkout 51

Another awesome App you can use to save even more when shopping at Walmart and many other retailers.  Checkout 51 is very similar to Ibotta with the same great savings.  You scan your receipt within 7 days of the purchase and check off the products you purchased. It just gives you more ways to save on your favorite products, they offer some similar and some different products then Ibotta. So if you don't find a product in Checkout 51 be sure to check Ibotta and vice-a-versa.  Checkout 51 has $1.00 and up cash back on produce and savings on purchases of 2 more of the same product. There are even savings at local restaurants and entertainment and technology but that's another article in itself.

6. Ebates

This is my favorite way of Saving not only at Walmart but anytime I shop.  There are many benefits to using Ebates when shopping at Walmart and the best savings of all is time. Shopping Online can save you a lot of time and money especially at Walmart, with long checkout lines or you buy things you really don't need. Most Walmart stores now have Online Grocery Shopping with FREE Grocery Pick with a minimum purchase of $50.00.  If you log in to Ebates before shopping at Walmart Online for your groceries or anything else you purchase.  You can receive up to 10% cash back through Ebates. I use Ebates for all my online shopping because it's such a great saving. Sign-up here and you will receive $10.00 after your first shopping trip of $25.

---

7. Walmart Clearance items

The best way to save on Clearance Prices is to know what the last digit means.  Yes, it's true even though it has a clearance price tag doesn't mean the price won't go lower. I use to work at Walmart for a few years and quickly found out that on the Clearance Items aren't always at the lowest price.  So here is the secret, when you look at the clearance racks or shelves and see a price ending in 5 it's not the final markdown. For example, if a clearance item is priced at $32.05, or $10.75 if the item doesn't sell out the price will go lower.  But if the price ends with a $.00 or $.01 be sure to grab it because the price will not go any lower. Never buy anything off the clearance shelf if the price tag ends in a 7 because it's the original price.  For example, $3.97, or $10.57 they are original price items that have not been discounted yet. Next time you are checking out the clearance items in Walmart be sure to remember this simple trick.

8. Walmart Clearance Specials

If you want to get the Walmart Clearance Specials you better set your alarm clock and get to the store early.  Every morning Walmart employees have to go through the meats, produce, and bakery department to mark down prices.  When I say early and mean be at the stores between 7:00 am to 9:00 am because clearance specials go fast. Items they have to mark down depends on the freshness date or sell by date.  So, by shopping in the morning you get cheaper prices on products that Walmart would not be allowed to sell otherwise. The bakery department is my favorite part because they sell off cupcakes, cookies, muffins, bread, and cakes as they over baked items.  If you're not going to use them right away you can always freeze them for another day. This is also a great way to plan meals during the week when you get meats on sale.  Why not stock up when you can, meat can be frozen for at least a week.

9. Walmart Price Match Online

Walmart.com marketing strategy is having the lowest prices on everything.  So Walmart Price Match Online policy has many limitations but it can be worth it.  This is only for product that you purchase through Walmart.com not in stores. The only way Walmart will honor a Price Match with online products is if; °  item is identical (i.e., model, size, brand, color, quantity) °  must be in stock at the store location, one °  only price match one item per customer per day °  no rain checks are given if an item is not in stock °  they only accept price matching online from the following retailer: Academy.com / Amazon.com / Autozone.com / Babiesrus.com / Basspro.com / Bedbathandbeyond.com / Bestbuy.com / Cabelas.com / Chewy.com / Dickssportinggoods.com / Dollargeneral.com / Familydollar.com / Homedepot.com / Jcpenny.com / Kmart.com / Kohls.com / Lowes.com / Michaels.com / Newegg.com / Officedepot.com / Oreillyauto.com / Pepboys.com / Petco.com / Petsmart.com / Sears.com / Staples.com / Target.com / Toysrus.com / Walgreens.com If you find a lower price contact Walmart Customer Service Online and submit your request.

10. Walmart Price Match After Purchase

You have up to 7 days from the date of your purchase to get cash back if the product goes on sale at Walmart.   Walmart Price Match in store Policy you need to have the original receipt in hand and proof the lower price.  The product has to be exactly that same item such as model, size, brand, or color in or to get cash back. The product can not be a clearance item, value of the day or purchased 7 days before Thanksgiving, Black Friday or Cyber Monday.

11. Walmart Sales Ad

If you ever really look at a Walmart Advertisement Paper you will not see the word "Sale Prices".   What you will see is "Roll Back Prices" or "Best Seller" because Walmart does not have Sales they Roll Back prices. Walmart is committed to having the lowest prices already so advertising a sale would mean that the previous price wasn't the lowest.   So when they RollBack Prices they are essentially saying the price is rolled back to an earlier time. The Roll Back Price is usually on overstocked items and can last for about 90 days.  So, be sure to stock up on items when you see RollBack Prices.
Best Deals at Walmart – Summary
---
Next time you walk into your local Walmart Store be sure to use these Money Savings Tips. Just for walking in you can use your ShopKick App and earn points for a Free Walmart Gift Card, how fun it that. Be sure to not only use one of these tips you can use several at a time and really saving thousands of dollars a year. Before you go to the store
Print Online coupons
, Walk-in using
ShopKick
and scan items for more Shopkicks. While shopping look for Clearance items, Rollback prices and Compare prices with other local stores.  Once you get home don't forget to scan your receipt in Walmart Savings Catcher,
Ibotta
,  Checkout 51, and ShopKick if you purchased any products for Extra Savings. I've never really sat down and totaled the amount of my savings, I will have to do that one day and let you know how much I have saved in a year.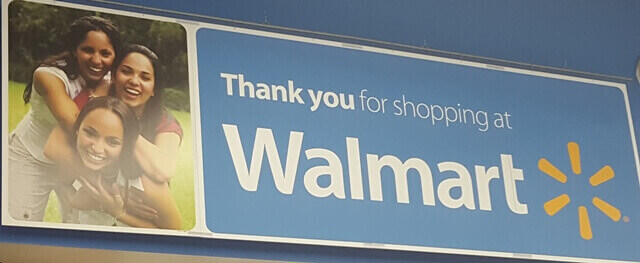 Thank you for Shopping at Walmart