---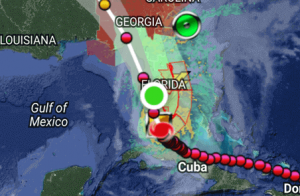 Things you need for a Hurricane before it's too late.  If you are looking for ways to prepare for a hurricane then you must live near the coast. Where the white sandy beaches, beautiful sunshine, and warm tropical breezes are not far from home.
Hurricanes can be very devastating and destroy homes and lives very quickly.  You can only prepare so much for a hurricane, but you can never control what mother nature is going to do.
There is no way to stop the wind from blowing down a tree or blowing the roof off your house.  There is nothing you can do to stop storm surge from entering your home.
Homes can be rebuilt your life is worth more than your home.  
Remember Safety First! 
Things can be replaced but YOU can't be.
When a hurricane is heading in your direction you will need to prepare in case you lose power and water for several days.  There are ways you can prepare if you are going to be without electricity. After surviving Hurricane Irma on September 10, 2017, we learned a lot about hurricanes.
Hurricane Irma was our first hurricane experience since moving to Florida.  If you are thinking about moving closer to the coastline then you will need a Hurricane Plan Today.
We watched as Hurricane Irma started forming out in the Atlantic Ocean and heading toward the US.  Florida was in its path, it was time to make sure we had all the supplies needed in the event our electricity went out for several days.  You don't realize what you are without until it happens.
You are without lights, A/C, fans, stove, hot water just to name a few things.  Here in Florida hurricane season is during the hot months so losing A/C and fans can get tough after a few days.  So, you must be prepared and get creative on how to stay cool.
The Very First Thing You Must Know Is?
When Does Hurricane Season Start
---
Hurricane Season is 6 months long, from June 1st through November 30th for the Atlantic Ocean. The Pacific Ocean is from May 15th through November 30th.
The time to prepare for a Hurricane is Right Now!  Today! It's smarter and less stressful if you get your supplies when it's not Hurricane Season because supplies will be limited during the season. Especially if a hurricane is heading in your direction everyone else is also shopping for the same supplies.
Hurricane Categories Chart
---
There are 5 different hurricane categories depending on their wind speed.
Category 1 – 74-95 Winds / 980-994 Barometric Pressure
Category 2 – 96-110 Winds / 965-979 Barometric Pressure
Category 3 – 111-129 Winds / 945-964 Barometric Pressure
Category 4 – 130-156 Winds / 920-944 Barometric Pressure
Category 5 – 157+ Winds / less than 920 Barometric Pressure
Top 6 Items to Purchase Today!
---
1)

Batteries
Batteries are going to be a very important item to have when you are without electricity. This will be the only source of power unless you have a generator.
To get the best bang for your bucks when it comes to batteries, buy in Bulk.  Let's face it you might end up needing lots of batteries during a hurricane if you lose power for longer than a few days.  Stock up now!  The best place to buy in bulk is on Amazon.
2)

Flash Lights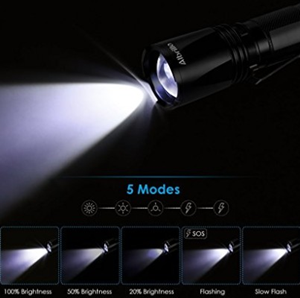 Flashlights are going to help light your path around your house when you are without electricity.  Flashlights are also needed if you should need help, you can send an SOS signal (… _ _ _ …).  Make sure the flashlight is lightweight and compact so it's easy to carry around.  An adjustable focus beam for long-range will be very helpful.
The Tactical Flashlight is the best we have found.  It has settings for Bright, Medium, Dim, Strobe (SOS) Flashlight for different uses.  It's best to have a flashlight for each person that lives in your home, so no one is without light.  Larger flashlights are good to light a room.
3)

Battery Operated Fan
If you are without electricity you will be without air conditioning during the hot months.  This little fan really helped a whole lot during our power outages.  We purchased this fan on Amazon and didn't know how well it would work, we were very surprised.
O2Cool Fans are terrific, we got the O2Cool 5″ Portable USB or Electric Fan and it was perfect.  It works with (4) AA batteries, USB, or electrically outlet.  We had it on all night and it never got hot or turned off and was still working after 24 hours.  The speed slowed down some but kept running.  We highly recommend it.  We also recommend getting the USB Solar Panel Charger to use with the fan to save on some batteries.  We decided to change the batteries after 24 hours.
4)

Lantern
Having at least 2 Lantern's in your house when you have no power is a smart idea.  You can leave one in the bathroom and one in the room you are sitting in.  The Etekcity 2 Pack Portable LED Emergency Hurricane, Storm, Outage, Collapsible is a great deal on Amazon.
These lanterns are light-weight durable, and ultra-bright with a long lifespan with low consumption that will light up to 12 hours of regular use. Uses AA batteries which are included but make sure to stock up on more Duracell MN1500 Duralock Copper Top Alkaline AA Batteries – 40 Pack.
5)
Emergency Hand-Crank Radio
An Emergency Hand-Crank Radio is a must-have for times you don't have a television to watch to know what is going on.  If you lose power, you will need to get up-to-date information about the weather forecast.
We found Saft-T-Proof Solar, Hand-Crank Emergency Radio, Flashlight to be the Best! It has so many extra features like a flashlight, blinking red light, sire, and No Batteries Required.  This little radio has a big benefit when you are in an emergency.
6)

Solar Charger Battery Pack Dual USB 
The Solar USB Charger is an alternative way to charge cell phones in the event of an emergency.  After the storm passes and you don't have any power to charge your cell phone or fan, this Solar Battery USB Charger will help keep things charged.
Once the skies are clear and the sun is shining again you can use this to charge your cell phones. It's water-resistant, shock-resistant, and dustproof.  It also includes 2LED flashlight and compass, so you know which direction you are heading.
The external battery charger will charge by either the solar panel or outlet.  You can charge an iPad, Tablet, or Cell Phones when you have no power. You can also use this for a day at the beach to keep your cell phone charged.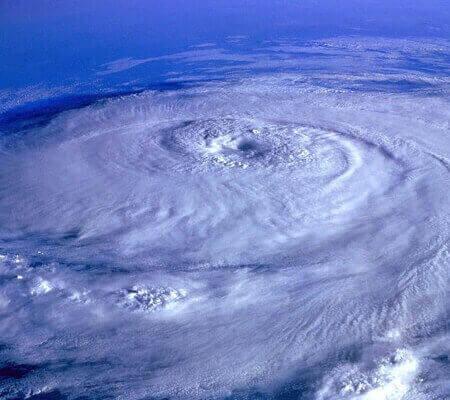 Hurricane Season Must-Have List: 
---
How to prepare for a Hurricane NOW.  Save plastic gallon's and half-gallon milk containers, any plastic container will work.  Fill the containers with water and freeze them as soon as the forecast projects a hurricane might be heading your way.  This is a terrific way to save money instead of buying bags of ice to keep your food cold.
We had 4 gallons of frozen water in the refrigerator and 2 gallons and 2 half gallons in the freezer.   Once we lost power we transferred the 2 half gallons to a cooler to keep other items cold.  We were without power for 3 days when Hurricane Irma hit Florida.  All our refrigerated food was still cold, make sure to limit the times you go into the refrigerator.
It is recommended to have one gallon of water per person/per day if you can't use your water.  The water will be used to prepare meals, drinking, brushing teeth, pets if you have them, etc. You will also need water if you must evacuate to a shelter.
Other things you should have on hand in the event of an emergency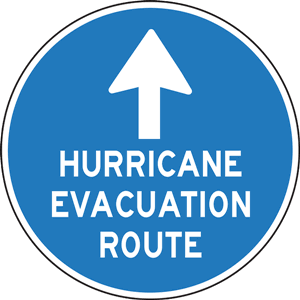 Manual Can Opener

Rubber Gloves and Work Gloves

Rope

Hand Saw

Broom / Mops

Cooler / Ice Packs

Duct Tape
Hurricane Food Supplies List
---
Bread

Crackers

Packaged Tuna Fish

Protein Bars

Cereal

Peanut Butter / Jelly

Granola Bars

Pop-Tarts

Bottled Water / Energy Drinks

Chicken in a Can

Trail Mix

Canned Fruit

Fruit Juice
They do sell Hurricane Emergency Kits which include a lot of the important items you should have on hand.  Be sure to pick one up today.
There are many other items that you will need for a Hurricane. Visit Fema.gov "How to Prepare for a Hurricane" brochure Click Here Print Today.
5

–

Lessons from Experience
---
Prepare Early – Now is the time to prepare!  Make sure you have either Hurricane Impact Windows or get Hurricane Shutters now.  If you wait until it's too late you won't find any shutters or wood to board up your home.
Important Documents – Get all your important documents together NOW.  Put everything into a 3-ring binder so you can just grab and go.  You should also scan all important documents and email to yourself, so you have access to it from anywhere.  If you have a Gmail account upload all documents to google drive. (Insurance Policy, Bank Statements, Credit Card Statements, Retirement Statements, etc.)
Paper Products – Paper Plates, Napkins, Paper Towels, Plastic Utensils, Trash Bags, Towelettes, Baby Wipes any other thing you can think of that you can just throw away in an unsanitary environment.
Cash – Make sure you have Cash on you if the power goes out you will not be able to use ATM Machines or Credit Card for purchases. Stores will only accept Cash so make sure you have small bills.
Fuel up your Car – If you must evaluate you may not find fuel along the way. Fuel your car at least 3 days prior to landfall or you will be waiting in long lines.
Final Note
---
Prepared Today!  Start Today before it's too late.  Don't wait until the National Hurricane Center announces that a hurricane is heading to your doorstep.  Make your Hurricane Preparedness List Now when it's not Hurricane Season.  You can be sure another Hurricane will happen it's just a matter of when and where.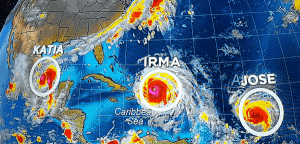 IMPORTANT NOTE WHEN YOU CAN'T FIND SUPPLIES
---
Join Amazon Prime you can get some supplies as quickly as two (2) days if local stores are out of supplies you need.  That is what I did when Hurricane Irma hit, I ordered batteries 5 days before the storm hitting and got them within 2 days.  I am so thankful for Amazon Prime and the many benefits that it offers such as FREE Shipping and Fast Delivery.